Check Engine Light Diagnostics
Check Engine Light Diagnostics, Hays, KS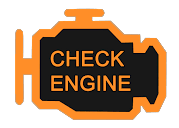 Don't neglect your vehicle's electronic systems - trust our experts to repair your vehicle properly the first time around! A poor driving experience can often be related to a malfunctioning computer or driving controls. Come to Broadway Automotive to ensure your vehicle is in top driving condition with our diagnostic services.
Diagnostics
Mechanics at Broadway Automotive are able to diagnose all the electronic parts in your car. For expert diagnostics services on your car's electronic devices, visit Broadway Automotive today in Hays, KS.
Check Engine Light
No one likes to see their car's "Check Engine" light come on. The light could mean a costly problem, like a bad catalytic converter, or it could be something minor, like a loose gas cap. At Broadway Automotive, we can pull the code and diagnose the problem for you. Give us a call at 785-301-2797 or stop by the shop for our expert assistance.
Testimonials
Angela H.
I was stuck in Hays for a few days while on a cross country trip. This mechanic helped me make a plan for necessary maintenance to get me to my destination. Very helpful, genuine, honest vibes. I'm thankful for the help!
view all reviews